Building Lifecycle Management (BLM) is the practice of designing, constructing, and operating a facility with a single set of interoperable data.
BLM puts into practice a BIM Level 3 approach that enables a highly efficient Extended Collaboration process based on Manufacturing industry best practices.
BLM is operationalized via a robust Product Lifecycle Management (PLM)* system, which creates an efficient environment for coordinating complex AEC (Architecture, Engineering & Construction) data.
[*The traditional Product Lifecycle Management term commonly becomes Project Lifecycle Management when applied to AEC.]
Adding BIM data to a PLM system creates a BLM system:
Benefits of BLM
BLM enables BIM Level 3 and can increase construction predictability, long-term value for project owners, and profitability for AEC project contributors.
The core benefits of employing BLM are improved productivity, sustainability, and quality, and reduced waste, risk, and cost.
These advantages are achieved through BLM's ability to eliminate rework, reduce RFIs (Requests For Information), centralize data, contextualize information, and more accurately predict outcomes.
Improve Productivity
Centrally managed data helps remove version control issues, chances for human error, and even the need to manage files.
With all users accessing a single live database via web services, rework (e.g., redundant drawings) and iterations can be drastically reduced.
As users proactively resolve issues in real-time using a BLM system, inefficient RFIs, submittals, and change orders can be reduced or eliminated.
Increase Quality and Value from Suppliers
Designers can make better decisions within a richer data context and maintain greater control over the quality of the finished product with BLM.
Collaborating in a BLM environment can help construction firms and building systems manufacturers develop a greater understanding of project requirements. With reliable data, builders and suppliers can improve coordination, execute more quickly, and accurately realize the design intent.
BLM also offers built-in governance and traceability, improving accountability across the disciplines.
Reduce Waste, Risk, and Cost
Regular cost overruns of 15 to 30 percent and standard risk margins of 20 percent or more illustrate the expected waste caused by traditional construction processes. By contrast, repetitive manufacturing processes typically yield only 2 to 3 percent waste.
BLM is designed to reduce waste by more accurately predicting outcomes, identifying potential points of conflict, and optimizing processes.
By the same methods, BLM also reduces risk to the project schedule, worker safety, and overall construction budget.
Gain a Competitive Advantage
The potential opportunity for AEC firms to gain a competitive advantage is to embrace BIM Level 3 early, before the market calls for further mandates.
Getting ahead of the curve with a BLM system enables a team to become more efficient than competitors, deliver higher quality, gain the loyalties of owners and design partners, and retain a healthier profit margin.
Example: Manufactured Systems
Manufactured systems such as curtain walls and façades are often the most complicated and costly elements of a construction project.
The façade often accounts for 15 percent of a construction budget. Façade models traditionally do not include data on the fabrication process, but manufacturing time can be reduced significantly — by up to 50 percent — if the fabrication process is defined in the design stage.
Close collaboration between the designer and the façade manufacturer is enabled with transactable BIM data and a BLM system.
When designers work with building product manufacturers to ensure the design intent is realized and improve supply chain efficiency, the entire project benefits.
Example: Identifying Conflicts Between Fabrication Models
During the Design Review process, modeled fabrication detail of a structure designed in CATIA® is imported and integrated with a pipe model created in a different system.
BIM data from a range of systems are reconciled within the BLM environment, where issues are identified and tagged for follow-up.
Fabrication models of multiple building systems in a single environment.
Case Study: Swire Properties One Island East Success Story
Swire Properties Ltd. applied BIM Level 3 processes and technologies for its One Island East tower in Hong Kong.
The 70-story, 1.75 million square foot project was delivered on time and with zero cost overruns. 3D clash detection became a primary vehicle for enhancing the coordination process.
Over 2,000 issues were identified and resolved prior to tender, but the One Island East project team issued just 140 RFIs, a 93% reduction from traditional 2D drafting processes.
This project won the 2008 AIA Technology and Practice Award.
BIM Level 3 Project Outcomes
70 stories
1.75 million sq ft
On schedule: 24 months
On budget: $450 million
Greater than 2,000 clash issues proactively addressed
140 RFIs: Greater than 90% reduction vs. similar projects
Manufacturing Industries Have Blazed the Trail
Manufacturing companies and their technology partners have been refining PLM for decades, and investing heavily in advanced systems.
Case in point, the first plane ever built without a physical prototype, the Boeing 777, was mocked up using a Dassault Systèmes application in 1994.
With today's BIM data standards, proven PLM practices and technologies are now readily available for AEC to leverage — in the form of BLM.
Digital Mock-Up Process at Airbus
Airbus and its partners collaborate around a virtual model of an airplane. The model provides a Single Version of the Truth for 3D information and all data related to the designed airplane and its usage throughout its lifecycle.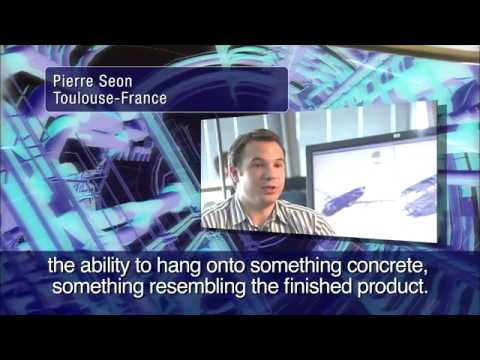 Excerpted from End-To-End Collaboration Enabled by BIM Level 3 (Dassault Systèmes, 2014).